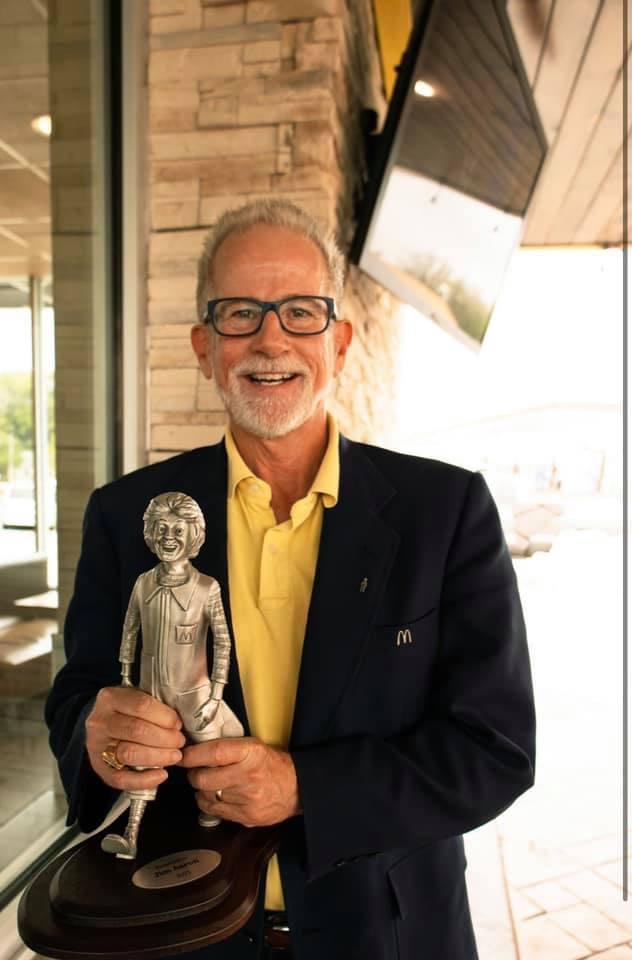 Jim Aaron, Owner Operator of eight McDonald's restaurants in the East Tennessee and Northwest Georgia areas, was recognized for his outstanding service to the McDonald's brand with the Ronald Award.


The esteemed Ronald Award is awarded to the top 1 percent of Owner/Operators across the country who have made outstanding contributions to strengthening McDonald's brand image and serving their customers and local communities. The award recognizes Aaron's dedication to McDonald's, to his team members, and to the communities in which he operates.
Jim Aaron's history with McDonald's began many years ago when he got his first job at the McDonald's in Rome. The current owner of eight restaurants began as  as a regular crew/staff member at the young age of 16, making $2.30/hour on Sept 7, 1977.  Aaron continued to work at McDonald's, while he attended Berry College, where he earned a Bachelor's degree in Business & Accounting.
He said after he graduated college he planned to work for an international company with excellent benefits. After a job search, he ended up right back where he had been since he was 16 years-old, at McDonald's. "McDonald's had everything I was looking for in a job."
After graduating Berry College in 1984, and moving up the corporate ladder for 37 years, on April 16, 2014, Aaron transitioned from the Corporate side and bought the Vonore and Charleston, Tennessee McDonald's. Over the past several years, his organization has grown to eight McDonald's stretching from Vonore on the north, down to Rome, Georgia on the south.
Aaron purchased the Rome/Martha Berry Highway McDonald's in November 2016, the Summerville, Lafayette, and Chickamauga restaurants in October of 2017, and added the Rome/Turner McCall Blvd in July 2018.
Jim Aaron's story is one filled with hard work and pride, and community.
Jim Aaron's impact on the local communities is unmatched, "I'm big believer that every business owner needs to support their local community by giving back in various ways. I think that's especially important as a local McDonald's franchisee. I believe my McDonald's restaurants have an opportunity to "make a difference" in the lives of our people and our communities, every day!   I work hard daily to bring that to life in a number of ways for my people and our communities. "I'm proud to be a local small business person, and proud to live in and support the communities, schools, teachers, students, and athletes where I live and do business. I think my passion on this topic comes from a strong core belief that if you do the right thing for others first, everything else works out how it's suppose to. I'm proud to support every school, in all of the communities where we do business in Northwest Georgia and East Tennessee."