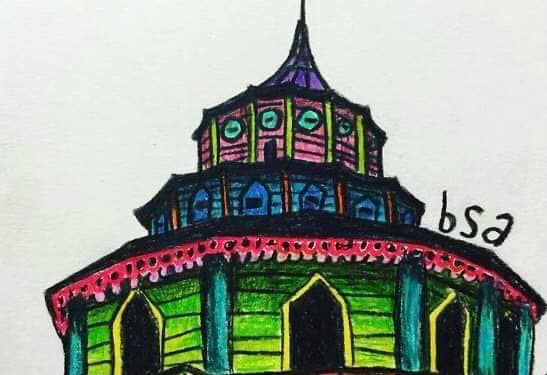 Paradise Garden will host two Paradise Pop-Up Artist Markets, on April 17 and May 15. Each will feature around 10 artists and run from 11am to 5pm.


Participating on April 17 will be Becky Altman (paintings), Jim Shores (found-object sculpture), Mark Issenberg of Lookout Mountain Pottery, Kimberly Dawn Crowder (paintings), Lee Laney (paintings), James Schroeder (prints and painted wooden cutouts), Martha Sandlin (mosaics) and Dale "Breezy" Ellis with Marianne Talarick of Mountain Witch Pottery.
Stop by and shop the artist market on April 17 — perfect timing to look for Mother's Day gifts — and tour Paradise Garden, too. Garden admission applies: $15 adults, $10 seniors, $5 students, free for members and Chattooga County residents.
HOWARD FINSTER (1916-2001)
Howard Finster is one of America's most widely known and prolific self-taught artists of the 20th century, producing 46,991 individually numbered pieces of art and creating a 2.5-acre art environment known as Paradise Garden in the foothills of the Appalachian Mountains located in Summerville, Georgia.
Born in 1916 in Valley Head, Alabama, Finster moved as a young man to Chattooga County to establish his family and served as a Baptist preacher for the next 40 years. In addition to his main calling as a pastor, Finster provided services to the area including bicycle, TV, and lawn mower repair that helped support his wife and five children. While living in Trion, Finster filled the backyard with items and inventions he deemed interesting or important.
THE VISION
In 1976, while applying paint to a refurbished bicycle, Finster noticed a smudge on his index finger had a perfect human face. A voice spoke to him instructing, "Paint sacred art." Not sure that he had painting ability, Finster pulled out a dollar bill and started drawing George Washington. From that fateful day forward, Finster created 46,991 numbered works of art, complete with hand-scrawled messages intended to save souls, with subjects ranging from pop culture icons, angels, visions of other worlds, Elvis, and historical characters. Word spread quickly and a steady stream of college students, artists, musicians, and art collectors visited the charismatic preacher. The growing support and attention helped Finster grow his Garden, which ultimately expanded to 20-plus structures, mostly notably including his signature creation, the World Folk Art Church.
HOWARD FINSTER INTRODUCES SELF-TAUGHT/FOLK ART TO POP CULTURE
To take his message into new realms, Finster designed album covers for the rock bands R.E.M, Talking Heads and Adam Again, and R.E.M. and the country group Blackhawk filmed popular videos in Paradise Garden. Finster's famous appearance on The Tonight Show with Johnny Carson further advanced his fame and audience for his evangelical message. Howard Finster "went home" in 2001 leaving behind his greatest legacy, Paradise Garden.
Today Finster's art can be found in museums worldwide, including the Smithsonian Museum of American Art, Library of Congress, Atlanta's High Museum of Art, the Milwaukee Art Museum, New York's Museum of American Folk Art, and Virginia's Abby Aldrich Rockefeller Museum of Art. In 1984, Howard was selected to represent the U.S. in the prestigious Venice Biennale. The Smithsonian Museum of American Art alone boasts 16 Finster works in its permanent collection. Howard Finster's children's album was released by the Smithsonian Folkways Recordings label. Finster has been featured in Smithsonian Magazine (2015) and on Smithsonian World TV show (1988), and is included in the Smithsonian Archives of American Art.
PARADISE GARDEN-
A historic art environment model for success
Chattooga County Development Authority purchased Paradise Garden in 2011 with an Appalachian Regional Commission grant and leased the garden to Paradise Garden Foundation as a non-profit. Paradise Garden is independently supported as a non-profit by individual donors, collectors, businesses, gate admissions, giftshop, and revenue from Paradise Garden three Airbnb overnight lodging. Paradise Garden Foundation Board of Directors and staff operates, maintains and restores this historic art site. Paradise Garden has welcomed over 47,000 visitors from 33 counties. It serves as a regional art center providing art education, programs, tours, camps, and workshops to over 700 children, seniors, and adults each year. It is the #1 cultural tourism destination for the region and drives economic development for Chattooga County and tri-state region.