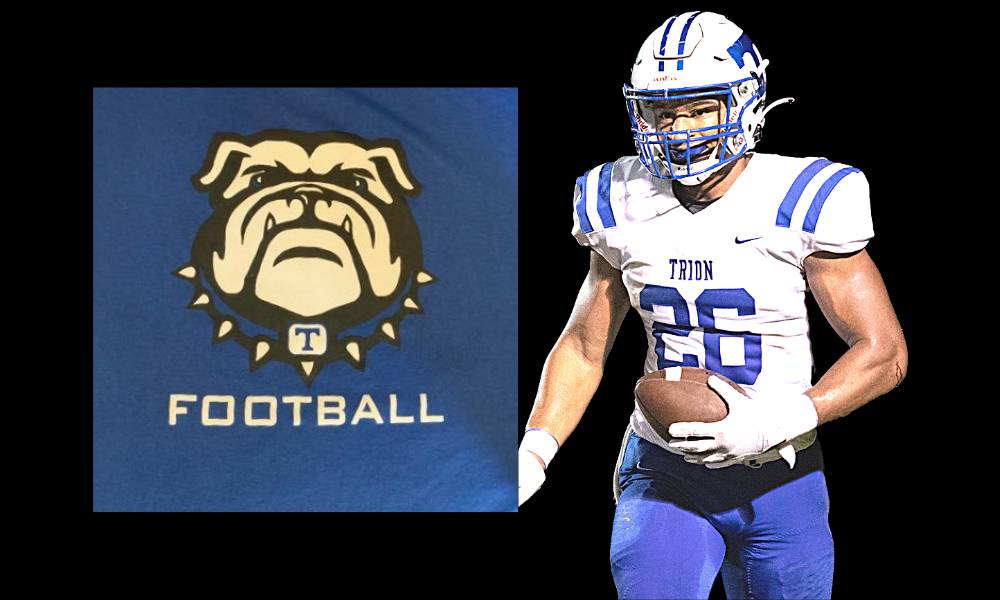 Trion's Senior Running Back Rob Brown is having a great week with tons of recognition after his outstanding production in the Region 6A matchup with Armuchee.  While the game was shortened due to weather (Armuchee forfeited at the end of halftime) the Bulldogs were pleased to head home after two quarters with a dominating performance resulting in a lopsided 48-7 score over the Indians.

In the game Rob Brown had six touchdowns, four rushing and two receiving. Brown has been recognized by Recruit Georgia as having one of the top plays of the week and by Georgia High School Football Daily as having one of the top five games in the state.
#RGTop10 – GO VOTE FOR THE #1 PLAY HERE: https://t.co/CtB2O1WyMd@robDbrown26 @kellon05999542 @maxeubanks3 @JosephRidley36 @EliAgnew @MarcusXAllen7 @DLalaian @JadynRice7 @ZCigelske @AverySmith2022 @Ethanjo1 pic.twitter.com/DzhrxYyh8I

— Recruit Georgia (@RecruitGeorgia) October 25, 2021
From GHSF: "Trion RB Rob Brown rushed for 290 yards and four touchdowns on 14 carries, caught two passes for 62 yards and two touchdowns, had two tackles and intercepted a pass – all before weather conditions canceled the second half – in a 48-7 victory over Armuchee."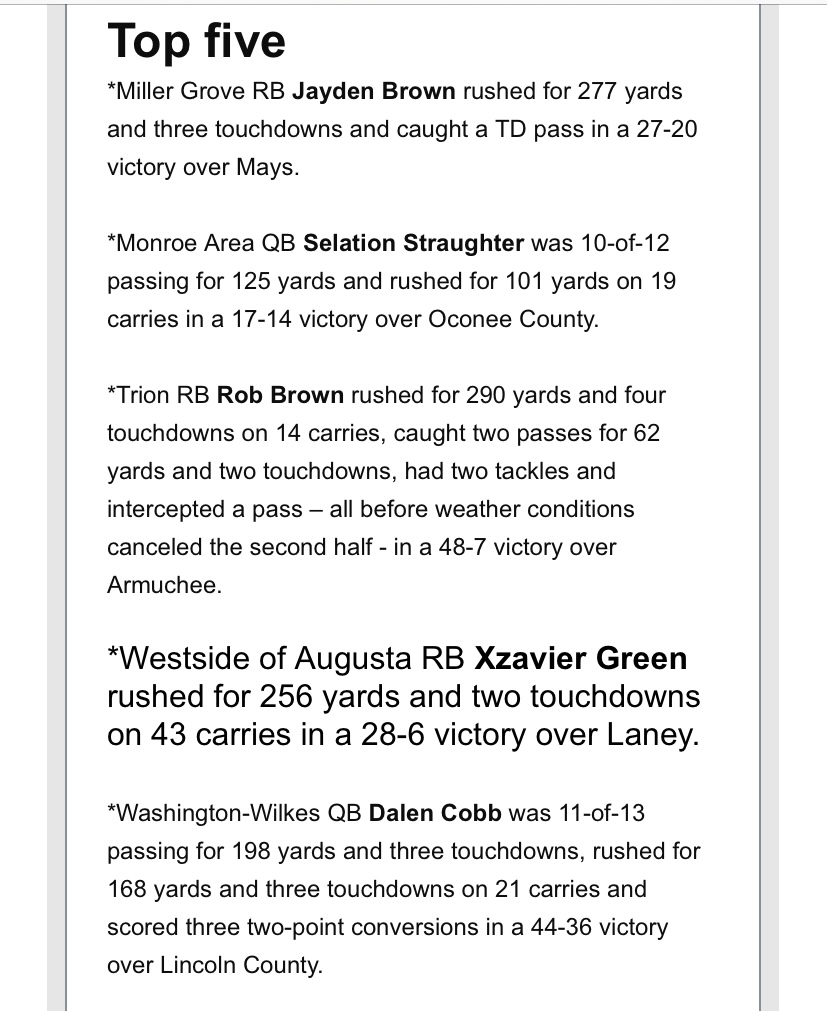 "The game against Armuchee is like a rivalry game for us. The game was fun and exciting," Brown told AllOnGeorgia.
For the Bulldog Nation Brown's success is not surprising, last season he finished with 1,215 rushing yards, a mark he has already passed with 2 regular season games left to play.
Brown currently sits at 1,314 rushing yards and 21 rushing touchdowns, and 123 receiving yards with 2 receiving touchdowns. But Brown wants a little more, "I want to break the school rushing record it is 1634 and I want to be an All-State Running Back."
Brown is in 7th across all classifications in rushing and the leader in single A. He is tied for 5th in scoring and touchdowns across all classifications.

"Rob is an amazing kid. He has an incredible work ethic. Special things happen when your best players are your hardest workers. Rob is completely deserving of all the success that he's having. I'm so happy for him and proud of him," Bulldog Head Coach Sean Patrick said.
The most shocking stat of Brown's is the number zero, "I do not have any college offers," Brown said, "but I am talking to a few schools."
Coach Patrick said he had a few colleges reach out concerning Brown last week, he also had schools reaching out this summer.  "All I know is that someone is going to get a heck of a player. He will make someone's program better," Patrick said.
When asked what motivates him Brown said, "I just want to be the best person on the field anytime I get on the field."
Of course Brown is the first to thank his big O-line who provide the running lanes. Trion's OL is one of the most experienced and deepest groups up front.
Headlining the group is 6-3, 265-pound tackle Kaleb Park (LT), a Cumberland commit.  Jackson Drennan (G), Bladyn Bowman (C), Ezra Adams (RT), Brantley Willbanks (G) and tight ends Cole Cavin and Ben Allen make up the remainder of the starting line up.
With the win over Armuchee, Trion improves its record to 7-1 on the season. The Bulldogs host the Mt. Zion Eagles in a Region 6A matchup on Friday, October 29. The Eagles go into the game with a record of 6-2. Mt. Zion lost 40-14 in their recent region matchup against Bowdon.
Photos by Robert McQueese, stats from MaxPreps