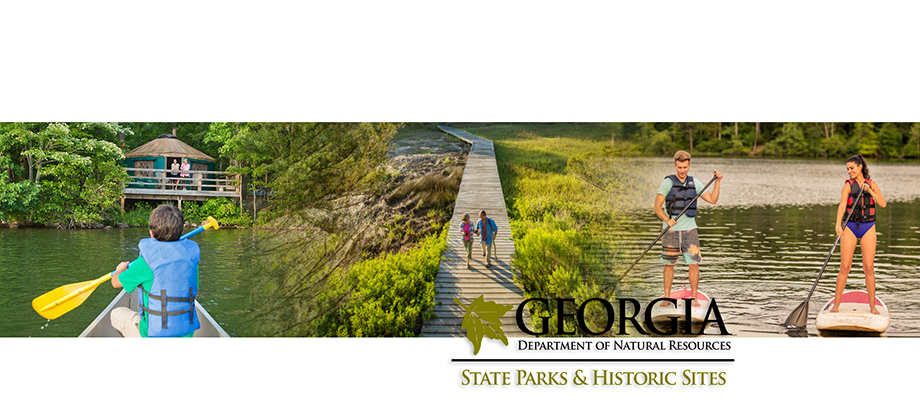 Georgia's State Parks and Historic Sites is sharing spring break ideas. Here are "Ten Ways to Get Families Outdoors".

With Spring Break just around the corner and gas prices on the rise, Georgia's State Parks and Historic Sites offer many ways for families to enjoy the outdoors for a fraction of the cost without having to sacrifice a fraction of the fun. Spring Breakers are just a tank, or less, away from sleeping under the stars, hiking through canyons, paddling through swamps, or lounging on a sandy lake shoreline. Visitors looking to park hop, instead of island hop this year, can save even more by purchasing the new Combo Pass. The Combo Pass will give park-goers access to 64 Georgia State Parks and Historic Sites for no extra cost. See below for ten memorable Spring Break escapes that won't break the tank! 
---
New Travel-Tracking Passport
Explorers on a mission to visit all of Georgia's State Parks and Historic Sites have a new way of tracking their travels. This keepsake passport allows guests to document their journey as they explore the state from mountains to marshes. Produced by the Friends of Georgia State Parks and Historic Sites, the passport is available for $12.99 in park gift shops. GaStateParks.org/Retail
---
Camping Under the Stars – Pack the tent and build cherished memories while roasting gooey s'mores. Camping encourages the entire family to enjoy the simple pleasures of swapping stories while looking up at the stars. All campgrounds have water and electric hookups, plus hot showers. Many offer sewage hookups for RVs. GaStateParks.org/Camping
---
Glamping Yurts – For a unique and affordable getaway, book a more glamorous camping experience in a yurt. These funky wood and canvas structures are a blend between a tent and cabin, with furniture inside and fire rings outside. Guests can even walk to nearby hot showers. Yurts are available at Cloudland Canyon, High Falls, Fort Yargo, Sweetwater Creek and Tugaloo state parks. Plans are underway to add a yurt village at Red Top Mountain this year. GaStateParks.org/UniqueAccommodations
---
Cozy Cabins – For an affordable and cozy staycation, book a cabin or cottage surrounded by beautiful scenery. These come with fully equipped kitchens, screened porches and a wide range of activities right outside the door. Bring your four-legged family members along when you reserve a dog-friendly cabin in advance. At Georgia State Parks' cabins, the price you are given includes everything, so no extra cleaning fees will be required, making for an even more affordable stay. GaStateParks.org/Cottages
---
Ranger Programs – Book a unique and affordable experience for the whole family through the Georgia State Parks' variety of Ranger Programs. From full-moon hikes, guided kayak excursions, campfire singalongs, archery classes, wildlife encounters and colonial reenactments, to scavenger hunts and sunset cruises, there are plenty of interactive experiences that will satisfy guests of all interests, ages, and skill levels.
---
Become a Junior Ranger — Children will have fun learning in the outdoors as they work toward earning 59 site-specific Junior Ranger badges. Through activity books or ranger-led camps, they will experience nature first-hand and explore Georgia's fascinating history. GaStateParks.org/EducationalResources
---
Hit the Trail – Traverse Georgia's many unique hiking trails with your children to discover the wonders of nature through their eyes. Georgia's State Parks offer a variety of hiking and biking paths, from easy paved loops to challenging backcountry trails. Families will experience Georgia's diverse landscape as well, with canyons and waterfalls, salt marshes and streams. Energetic explorers can join the Canyon Climbers Club or Muddy Spokes Club while wearing a members-only t-shirt.  Learn more at GaStateParks.org/ParkActivities and GaStateParks.org/ParkClubs.
---
Go Fishing – Grab your rod and reel and head out for a day of fishing at parks like High Falls or Seminole. There is no fee for casting a line, but a license is required for ages 16 and older.  For families who would like to take their adventure up a notch, many state parks rent boats by the hour. GaStateParks.org/ParkFishing
---
Travel Back in Time – Mix entertainment with education when you step back in time at Georgia's State Historic Sites. Children can explore colonial times at Fort Morris and Fort King George, or Civil War bunkers at Fort McAllister. To learn about Native American history, visit Kolomoki Mounds, New Echota, Chief Vann House and Etowah Indian Mounds. More historic sites are listed on GaStateParks.org/History.
---
Go Paddling – Explore Georgia's waterways through a variety of paddling adventures. Canoes, kayaks, stand-up paddleboards and aquacycles may be rented or visitors may bring their own boats. Many parks offer guided tours, including Stephen C. Foster's tour of the mysterious Okefenokee Swamp. For a challenge, join the Park Paddlers Club which takes explorers to six state park waterways while wearing a members-only t-shirt. GaStateParks.org/Paddling